In March 2020, the University of Toronto moved to an entirely online/remote teaching environment in response to the global COVID-19 pandemic. Instructors, staff and students pivoted quickly and, for some, there was a steep learning curve. This Re:Think series focuses on instructor experiences – how they connected with students and colleagues, the creative ways they approached the transition, and the challenges they faced and resources they discovered while doing so.
Jennifer Farmer, Assistant Professor, Teaching Stream, Chemical Engineering and Applied Chemistry and cross-appointed with the Institute for Studies in Transdisciplinary Engineering Education & Practice (ISTEP), participated in a year-long program, a partnership between the Centre for Teaching Support & Innovation (CTSI) and the Association of College and University Educators (ACUE). The program cohort experienced a two-day face-to-face launch in June 2019 and then worked online completing 25 modules while also participating in a number of face-to-face workshops. Jennifer completed the program as a student and received the Certificate in Effective University Instruction offered through ACUE and endorsed by the American Council on Education. We asked how her experience as an online learner and teacher will impact her online course design for upcoming terms.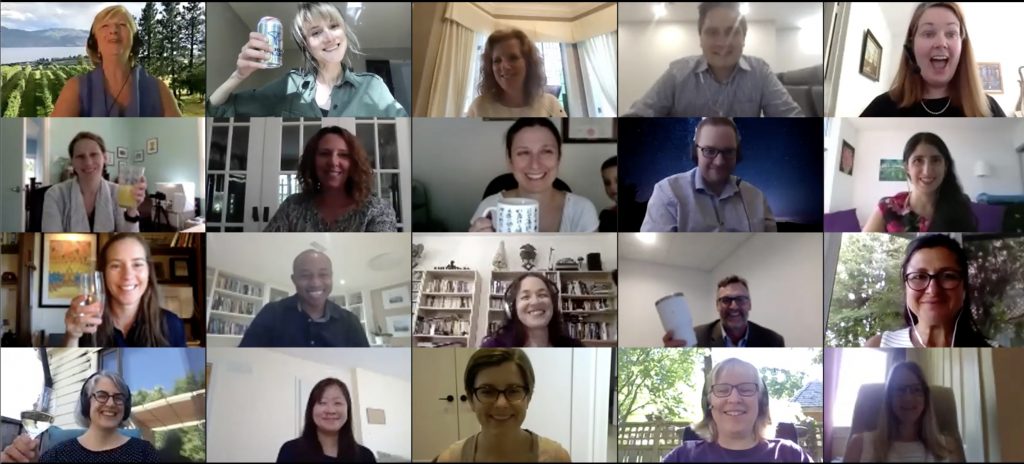 Key takeaways for building an online course 
Overall, my experience in the ACUE course was quite positive. While I have taken hybrid courses in the past (~50:50 mix of in-person and online) this was my first experience with a true online course. There were many advantages to this form of learning but there were also some clear challenges, specifically around motivation. This experience has taught me that online courses are definitely for self-driven learners and do require quite a bit of time and dedication to complete. My experience in this course has definitely got me thinking about the most effective ways to transition the courses I teach to an online format.
My key takeaways are:
Build flexibility into content delivery and assessments when possible. There are benefits to both synchronous & asynchronous learning and I believe having a blend of the two will help reach more learners. Give students choices when it comes to assessments. For example, take the best 3 out of 4 quizzes or give them opportunities to choose the weighting of their assessments. For group work, allow them to choose their own topic and the people with whom they will work.
Identify resources early. Don't assume students know all of the resources available to them through the university. Take time to discuss where they can go for technical help, how to properly manage their time, or where they can go to connect with other students. You should also make them aware of the technology you require of them for the course. I plan to survey my students to see how familiar they are with MS Team and BB Collaborate – the two platforms I plan to use in my course. If you require certain software to run labs or projects, make sure students can easily access this information.
Be mindful of student's workload. Having students watch 3 hours of videos a week plus attend 3 hours of lecture plus tutorials plus assignments, etc. can really start to add up. We as instructors need to make ourselves aware of this and plan accordingly. For example, one of my courses is 3 hours of lecture per week. As I look to redesign the course and move it online, I plan to use ~1-2 hours for synchronous work and the other 1 hour for asynchronous work. Students will be encouraged to complete online quizzes or readings during the 1 hour of asynchronous work and building that flexibility into their schedule helps them organize their time and better manage their workload.
Be transparent, patient, kind, and understanding. We are in this together and it's a difficult transition for everyone. I plan to be honest with my students that while I have given my best to learn these platforms, I am by no means an expert. If they have ideas on how to improve the functionality of the course, I will encourage them to share. I want them to know they are an important stakeholder in our course and that their opinion matters.
Reach out and ask for help or collaborate with others. I teach two lab-based courses. While some labs already exist, others do not. It would be VERY time consuming to develop all of these labs on my own. So, I encourage colleagues to reach out to see what others are doing and when possible collaborate on projects and content development.
I found it challenging at times to connect with my fellow students in the ACUE course. While there were aspects built into the course to encourage and support an online community (e.g., watch a video and then participate in discussion), if you were not up-to-date with the readings it was difficult to contribute in a meaningful way. So, I think the course was designed in a way where you got out of the group discussion what you put in and if you were late to the conversation you felt that you made less of a contribution. I think the course could have greatly benefited from more synchronous online components to build and strengthen this community.
With that learning in mind, I look forward to my own courses. I'm considering using synchronous reading circles and asynchronous discussions to help students stay engaged with material, but also build a sense of community within the course. The reading circles will provide students an opportunity to engage in discussion in real time while the asynchronous discussions allow students to contribute at their own pace. By building in the flexibility I'm hopeful to reach more learners. Unlike the ACUE course where online discussions were not graded, I plan to include participation grades to these online discussions as a way to motivate and reward students for their engagement.