In March 2020, the University of Toronto moved to an entirely online/remote teaching environment in response to the global COVID-19 pandemic. Instructors, staff and students pivoted quickly and, for some, there was a steep learning curve. This Re:Think series focuses on instructor experiences – how they connected with students and colleagues, the creative ways they approached the transition, and the challenges they faced and resources they discovered while doing so.
Karen Reid, Professor, Teaching Stream, Computer Science in the Faculty of Arts & Science, participated in the Certificate in Effective University Practice Teaching, a partnership between the Centre for Teaching Support & Innovation (CTSI) and the Association of College and University Educators (ACUE). She was one of two course facilitators for the ACUE program, leading the face-to-face components and supporting instructors as they worked through the online modules. She also completed the program as a student and received the Certificate in Effective University Instruction offered through ACUE and endorsed by the American Council on Education. The program cohort experienced a two-day face-to-face launch in June 2019 and then worked online completing 25 modules. We asked how her experience as an online learner and teacher will impact her online course design for upcoming terms.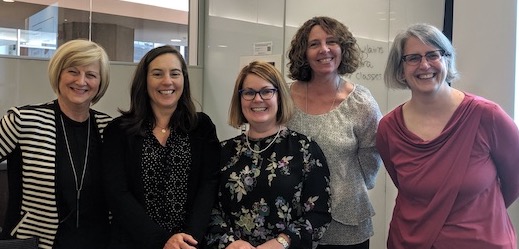 How was your experience connecting with your fellow students (colleagues) online?
It is humbling to be a student in an unfamiliar environment, and observing the struggles and insights of my colleagues gave me new appreciation for how much we ask of our own students in each course.
Even when a course is well-organized and engaging, students still need support and guidance. This course really gave us the opportunity to see many different perspectives of learning. Each of my colleagues brought their own experiences to the course which enriched my own learning.
It was a great reminder that my own students approach their coursework from different perspectives and that they will be more engaged when they connect their past experiences to the course and to the viewpoints of other students.
You experienced this certificate program as a facilitator, instructor and student. Did you find that one role informed the other?
I learned so much from being able to take on multiple roles in this program. As a student, it was really hard to stay on top of asynchronous online modules with self-imposed deadlines, even though I had the best intentions.
As a facilitator, I was able to observe how other students tackled the modules, the kinds of information that they needed to help them make progress, and the benefit of sharing ideas.
As an instructor, I learned how ideas used in other disciplines might be transferable to my own.
What are your key takeaways, especially concerning online design?  
The most important takeaway is the value of personal contact. Our colleagues told us how much they appreciated the encouraging messages we sent to the students who had fallen a little behind. I'm going to be looking for opportunities to connect online with my students in small groups or even over email.