For Dr. Laurie Bertram, equipping students with the skills to locate, compile and critically analyze, and effectively present primary documents is an integral component in a history course. Through assignments and course parameters that help them transfer what they've learned to future academic and professional settings, students can engage with material that is both historical significant and relevant to today.
"A seminar on sex trade history is a great way for students to learn about critical methodologies," she says.
Drawing on her earlier research and experience as a community activist in Winnipeg and a touring exhibit on the history of sex work in Western Canada called "PIONEER LADIES (of the evening)", Bertram developed "The Oldest Profession: The History of Sex Workers in Canada" for the Winter 2016 term (Department of History, Faculty of Arts & Science). The joint undergraduate and graduate fourth-year seminar course – that also provided research leadership and mentorship positions for the grad students – included an individual research topic, a collaborative digital map project and a public display and exhibit in Robarts Library.
When designing the course, Dr. Bertram collaborated with U of T librarians to establish research methodologies and online databases. The librarians provided ground-level research and institutional support for students (and Dr. Bertram) of all that the University of Toronto Libraries (UTL), and Toronto systems, have to offer, including treating the students to a field trip to the rare book library to examine materials in person.
"Working together with librarians like David Fernandez, who hosted a special workshop on early texts on sex work in the Fisher collection, created hands-on research opportunities that really changed the way students did their research and in several cases, helped students produce really innovative original papers on a range of topics," says Dr. Bertram.
"The Fisher Library's collections offer boundless possibilities to develop interactive learning experiences using historical materials," David Fernandez says. "History becomes something tangible the moment students handle an original engraving from the eighteenth century or read passages from the first edition of a book. Such workshops are great opportunities for students because they not only advance their research skills, but many come to realize how their studies have social, cultural, and political ramifications."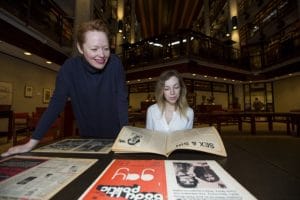 Students had to review information and primary sources with a critical and analytical eye as many were written by government or law enforcement agencies or social reformers who had their own agenda when reporting numbers and stories. "There are some important surviving first hand accounts of life and work in the industry in the 19th century," Bertram says. "But most of these represent the perspectives of more affluent/upscale White madams and workers, so we are still quite limited to their own particular kinds of experiences."
It was important for Dr. Bertram that her students move beyond the scandalous or tantalizing aspects of the stories and focus on the personal perspectives, learning to read between the lines in the articles and understand the codification of language. For Satoko Nakamoto, a student in the course, this presented a welcome endeavor.
"It was challenging researching this topic because people don't want to talk about it – or admit it's there," Nakamoto says. While there may be references to bawdy houses or houses of ill-fame, the students also looked for charges of drunkenness, vagrancy or selling alcohol. Having access to primary resources through University of Toronto Libraries and the City of Toronto Archives meant they could apply critical analysis and decode the reports and stories with a fresh perspective.
For Nakamoto, it was also enjoyable to feel immersed in these resources beyond the course content. "Even reading the advertisements or small stories that weren't necessarily related to my research was so interesting and I felt like I was travelling through time."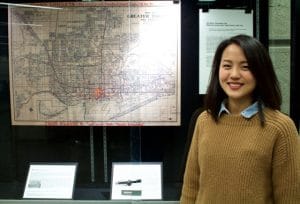 To create the digital map project – "Sex Work and the Queen City: Mapping Toronto's Sex Trade History, 1865-1915" – Dr. Bertram collaborated with Map and GIS Librarian Marcel Fortin. "Thanks to Marcel, my students and I can build up the map for years to come," Dr. Bertram says. "Hopefully, as the project expands, the map will also help the larger Toronto community connect to hidden chapters of their history – these sites surround us in everyday life and awareness of that historical landscape can only enrich our understanding of the city."
For Nakamoto, seeing the results of the mapping project altered her perception of early Toronto. "Through the mapping project I learned that Toronto is a red light district in itself – like the entire city. I saw all the points that my classmates made on the map and it's everywhere!"
"The city became our classroom," Bertram adds. "It was amazing to see a parking lot or an office building suddenly revert into a very different space."
Dr. Bertram encourages her students "to adopt a more biographical, almost micro-historical approach and just try to locate and contextualize a particular moment or person outside of these sources."  Exposure to these primary sources and letting the students explore the content meant they could direct their own research.
Reading about immigrant women, with a focus on the early Japanese community, provided Nakamoto with space for personal reflection. "I would be considered a first generation immigrant here. I came alone and I plan to make a life here. I know how it feels to be someone who has no connections in a foreign country, though it's much easier now."
"The drive for this research paper really was in finding these bits of information and me wanting to make sense of why it was there," says Nakamoto. "I did have an idea of what I wanted to do but digging through this pile of random pieces of information helped me focus."
Through Nakamoto's research, she found a reference to another primary source – a 1910 book called Brothels in Canada, written by a Japanese journalist living in British Columbia. She's only read descriptions of the book's content in the secondary source but recognizes that it is an important document in understanding the experiences and conditions of immigrant women in that era. "Dr. Bertram helped me request that the Fisher Library try to get this book – they are still on the hunt for it," Nakamoto says. Much like the mapping project contributing to the course legacy (as future students add to its content), Nakamoto can see how her research can extend beyond this one course. "I never thought that I would be able to request this source for the university. I made a difference. I contributed to something and I felt very happy about that."
The final component of the course was an exhibition piece – "Canada's Oldest Profession: Sex Work and Bawdy House Legislation" – co-curated by Megan Ross, a doctoral candidate in the Faculty of Law, on display at Robarts Library (until June 1, 2016) and an online UTL guide. From memoirs of a Canadian madam in the late 19th century, the racist overtones of the "White Slave Panic", the rise and legislation against burlesque theatres, to the bathhouse raids in the Toronto gay and lesbian communities into the 21st century, this exhibit showcases the students' research and tells a side of Canadian history most of us never encounter.
For future offerings of the course, Dr. Bertram would like to build more connections with the local community and have more input from people who have worked in the sex trade. "Experiential people possess critical knowledge and insight and are very much leaders in some of the most important debates surrounding sex work legislation in Canada today," she says. "I want the course to reflect that in the future."
The Oldest Profession in Canada has also been featured in the Globe and Mail and The Star.